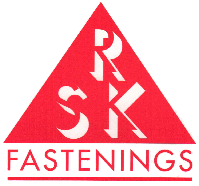 Hello and welcome to the web site of RSK Fastenings in Halifax, West Yorkshire.
We're an engineering merchants and industrial supplies company that's been providing a wide range of quality products to businesses for over 30 years.
Our extensive product listing, knowledgeable staff and commitment to customer service means that our loyal customer base continues to grow and grow.
We stock thousands of products, far too many to list here on the site, so to give you an idea of the range of goods we stock we've put some information on to the various headings at the top of this page. Many of these are available on a same day delivery service!
We are ISO 9001 registered so you can be guaranteed that the products that we supply & the service that we provide all meet the standards required.

If you can't find what you're looking for, we'll be able to help you so just give us a call.